Compile tabble, run it and you will see a panel that looks pretty blank. Hold down shift and buttons will appear as this shows.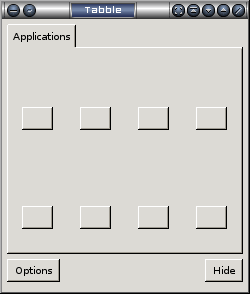 Move the mouse over a button, right click and edit away.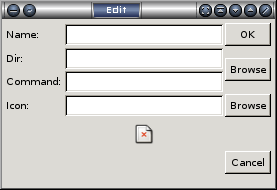 As programs are added you will get more right click options.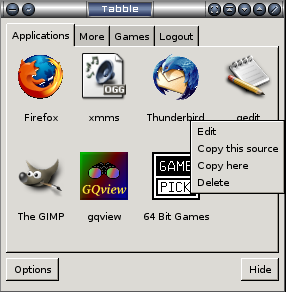 The hide button is to put tabble only to sleep, making restarts faster. This is done by the use of a signal. Rather than executing tabble straight you are encouraged to use the provided tabble-wrapper script which will take care of starting tabble and restarts for you.

Tabble makes use of the mouse middle click. This will launch the desired program and auto-hide tabble.

Tabble is not attention seeking by default. Please check your choice of these in Options-Behaviour. The third option will set tabble to revert to the first tab on un-hide.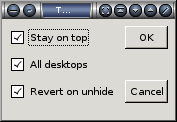 To finish the install you will need a way of launching tabble-wrapper. The most obvious method is to put an icon on your taskbar but you may use any other way you wish.

Tabble may also be toggled to locked-down mode with a simple text edit of its configuration file. In this mode only the programs you have set up may be run. No others can be added and there is not an options button.

The main tabble home page (and for download) is here.